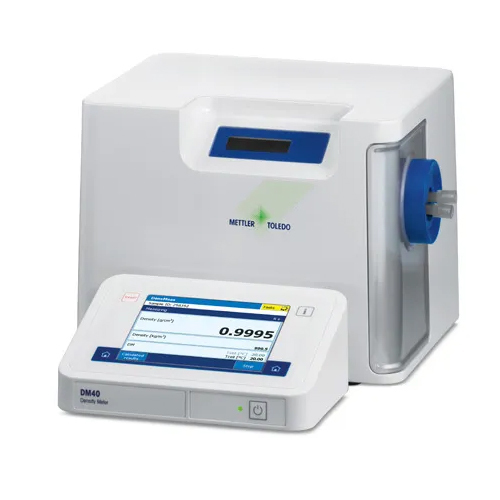 Benchtop Density Meters
Product Code : 17
Product Description
Benchtop Density Meters :-
DM40 is a 4 place digital LiquiPhysics Excellence density meter for measurement of density, specific gravity, API (petroleum), BRIX (sugar) and other density related values.

The LiquiPhysics Excellence DM density meters and DX density cell modules automatically detect measuring errors and feature a wide measuring temperature range, fast heating-up and cooling down-rates and very short measuring cycles. DM and DX are doubtlessly the state-of-the-art pinnacle for digital measurement.
Simple :-
LiquiPhysics Excellence offers pioneering product-oriented OneClick measurements including a unique method/product concept with automatic error detection and automatic adjustment verifications. The most convenient way to enter sample data is achieved with SmartCodes eliminating the click of a button, and ScanStraight which is even capable of scanning barcodes automatically.
Sound :-
The powerful automation units can cope with practically any type of sample, clean efficiently the system, reduce work and protect operators from direct contact with toxic solvents or vapors. ErgoSens protects the instrument as measurements can be started without the need to touch anything.
Sophisticated :-
LiquiPhysics Excellence can combine density and refractive index determinations with the innovative cell modules. The systems can also be flexibly upgraded to measure pH, conductivity and color simultaneously saving time, space and money. A smooth and seamless LIMS/SAP integration with LabX PC software organizes comprehensive sample lists containing all the relevant data to entirely automate quality control.
Secure :-
LiquiPhysics systems offer complete user management in every configuration. This includes LogStraight, a biometric way to quickly and accurately inform the system of the operator details. LabX laboratory software offers full support to comply with the 21 CFR 11 regulations.