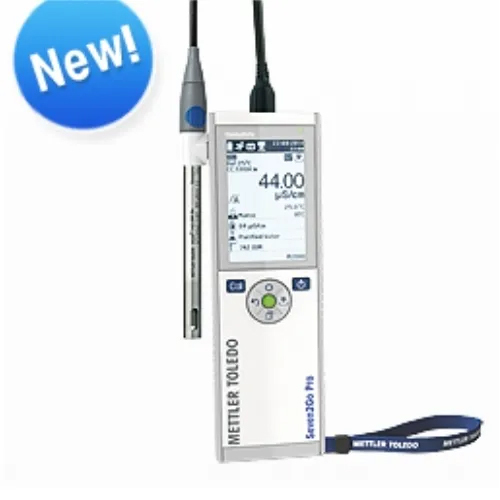 Conductivity Portable Pro
Product Code : 07
Product Description
Conductivity Portable Pro
Optimized for conductivity measurement in the laboratory, at-line, or outdoors, the new Seven2Go Pro S7 portable is designed to provide users with fast quality data, one-handed operation and durability.
Robust in design, optimized for one-handed use, and comprising an intuitive menu structure, the new Seven2Go portables offer quality pH measurement for laboratory, at-line, and outdoor environments.

For detailed technical specification of the product, refer to the Datasheet under the Documentation tab.
Simple Menu - Intuitive Operation
Seven2Go's new intuitive menu guarantees out-of-the-box operation for anyone. User no longer need to study lengthy operating instructions.
T-pad - Comfortable, Fast Navigation
Seven2Gos new T-Pad improves the speed with which you move through menus. The smart button arrangement allows for faster navigation that provides you shorter time to actual measurement.
12 Languages Clear and Concise
The Seven2Go supports 12 languages and offers a user interface that uses complete words and sentences.The lack of cryptic expressions simplify operation and reduces strain on the user.
Sunlight-proof Always Brilliant Readability
The screens contrast is enhanced by direct sunlight. This guarantees an excellent readability even under bright and sunny conditions.
Status Light Easy Readiness Check
Thanks to the new Status Light you are instantly aware of how the meter is doing. An easy to understand traffic light concept shows if your meter is ready or not.
Weatherproof USB - Safe Data Transmission
With the IP67 USB connector, data can be transferred to a PC anywhere and at all times, under any weather condition.