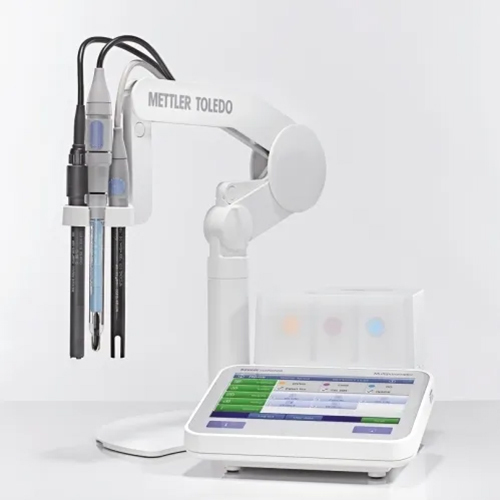 SevenExcellence pH Meter
Product Code : 01
Product Description
Seven Excellence pH Meter
Unmatched pH Performance for Safe Results
SevenExcellence is the perfect choice for applications where maximum measurement accuracy is required. The multi-channel instrument allows measurements of 1, 2 or 3 parameters simultaneously, either in the same or in different samples.

Professionally executed installation and qualification as well as regularly performed maintenance and calibration ensure error- and carefree instrument operation. Moreover, our qualification and calibration services support you in fulfilling regulatory compliance and provide you with essential documentation required during quality audits.
Flexibility in all Respect
SevenExcellence offers flexibility on all levels, ranging from the number of measurement parameters to the choice of a vast collection of peripheral devices. The instrument's interfaces allow you to connect peripherals simultaneously, supporting your workflow in the best possible way.


SevenExcellence fits three modules in any composition and order. It offers the highest possible flexibility as you can expand the instrument at any time, adding new measurement parameters.
Solid Compliance Elaborated and Tailored
This instrument has been designed to help you meet the most stringent compliance requirements. SevenExcellence offers the ideal combination of innovative properties integrated within the instrument, appropriate documentation and services.


METTLER TOLEDO also offers professional installation, qualification and calibration services. These services do not only guarantee accurate and precise measurements but also leave your mind worry-free when it comes to possible compliance issues during quality audits.
Efficient Workflow Support
SevenExcellence has been designed with the objective of optimizing the workflow and making work in the laboratory more efficient. Just one click is needed to start a sample or a series of measurements or an analysis series with an optional autosampler. Once setup, data archiving is a standard procedure that will take place automatically following each analysis.


SevenExcellence comes with uPlace: The electrode arm with perfectly vertical movement can be operated using one hand only. This allows for faster measurements and reduces the risk of the sample vessel tipping over or damaging the sensor.