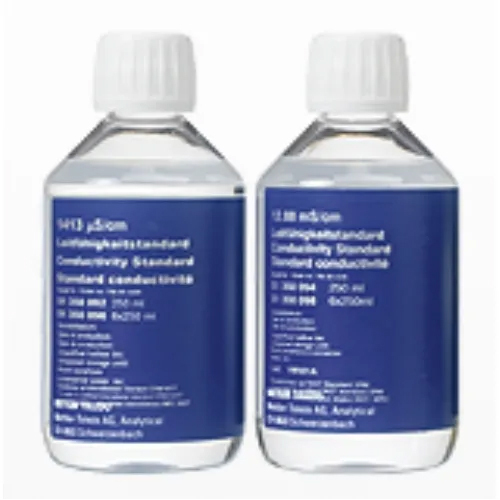 Conductivity Standards
Product Code : 06
Product Description
Conductivity Standards
Maximum Traceability and Compliance
All METTLER TOLEDO's conductivity standards are traceable to certified international standard SRM NIST. To guarantee maximum traceability, an individual test certificate exists for every calibration solution. Simply download the quality certificate from our online database:
Different Packaging Types to cover your demands
Choose between bottles or sachets - All conductivity standards are available in handy bottles with no-fuss labels, including a tear-off section for filing purposes. If larger quantities are required, then our 6-packs are the right choice. The common conductivity standards are also available in sachets. The use of sachets guarantees fresh solution for every calibration as well as maximum ease-of-use.
All the Information you Need for Safe Results
A slight change in temperature usually has a big impact on the conductivity value of a standard solution. A temperature dependence table on every bottle label or sachet indicates the conductivity values at the most common measurement temperatures. Further there are the Lot- number, the date of production and the date of expiry printed on every bottle or sachet.
No Matrix Errors
All METTLER TOLEDO's conductivity standards are aqueous-based. This means that they do not cause the matrix-mismatch errors that can be associated with non- aqueous conductivity standards.


Due to their aqueous composition, METTLER TOLEDO's conductivity standards are non-hazardous and they do not present any shipping, storage, handling or disposal problems which normally occur with solvent-based conductivity standards.