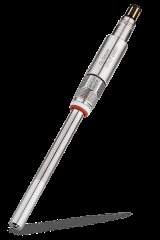 Dissolved Oxygen Sensors
Product Code : 06
Product Description
Dissolved Oxygen Sensors
High performance optical and polarographic in-line probes
METTLER TOLEDO's hygienic dissolved oxygen sensors are used in a variety of application mainly in the biopharmaceutical and food and beverage industries.
The sensors incorporate the Intelligent Sensor Management (ISM®) technology which provides the highest signal accuracy and stability.
ISM® diagnostics enable efficient maintenance planning and contribute to achieving the highest yield in batch and continuous processes.