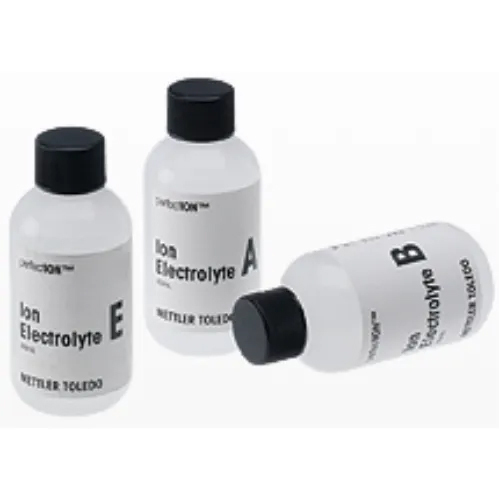 Solutions for perfectION™ Combined ISEs
Product Code : 07
Product Description
Solutions for perfectION Combined ISEs
The Right Electrolyte for any Application
The correct electrolyte will minimize junction potentials and provide optimum temperature and time response. To achieve good electrode performance the electrolyte must be refilled or replaced regularly. The Electrolytes come with special cap that make refilling your electrode a child's play.
Ionic Strength Adjustors for High Repeatability
Ion selective measurements are dependent from the ionic strength of the sample. An ionic strength adjuster (ISA) is added to all standards and to all samples to reduce the margin of error due to ionic strength variations in the samples. The use of these especially for the perfectIONâ"¢ electrodes developed ISA-solutions ensures that the ion selective electrode measure the concentration of the desired ion, and not the total ionic activity of the sample.
Compliance with international regulations like GHS
Compliance with regulations is key for METTLER TOLEDO. All SDS and labels fulfil the requirements of GHS (Globally Harmonized System) and are available in local languages. Simply download any required document from our online database: