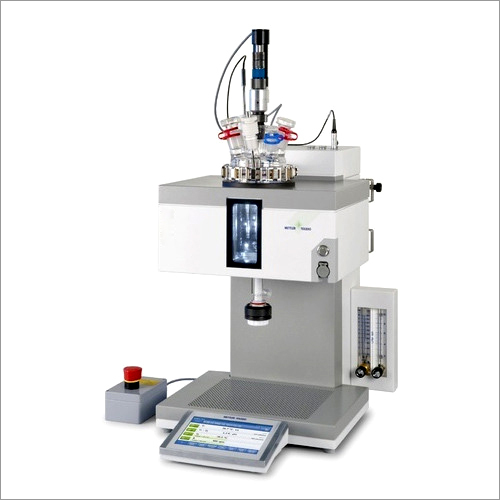 Synthesis Workstation
Product Code : 03
Product Description
OptiMax Synthesis Workstation

Synthesize, Optimize, Characterize - Products and Processes Right in Time
The OptiMax synthesis workstation allows organic chemists to make correct decisions timely, and bring new products to the market faster. OptiMax redefines the way chemists do organic synthesis.
OptiMax replaces traditionally used round bottom flasks and jacketed vessels by a versatile and easy-to-use system. Set up in minutes, OptiMax operates accurately and reproducibly, and can be run unattended safely providing information-rich and traceable data.
Heating and Cooling – Simple and Accurately
The electrical heating and the Peltier cooling ensure precise temperature control from -40°C to 180 °C. It does not require any cumbersome oil or ice baths or bulky cryostats.

One-Touch Control
Experiments are controlled by an intuitive touchscreen. Changing reaction parameters is simple and a matter of seconds. Data and trends are displayed on the screen instantaneously. A sequence of consecutive tasks can be programmed and run unattendend and safely.
Unlimited Flexibility
Depending on the nature of the study the experimental configuration can be chosen from a wide range of different reactors and accessories. Changing the configuration is fast and completely effortless.
Quality Information
All events and data are recorded automatically, making experiments traceable and reproducible. For processing or interpretation purposes, the data can be easily exported to iControl or Excel®.