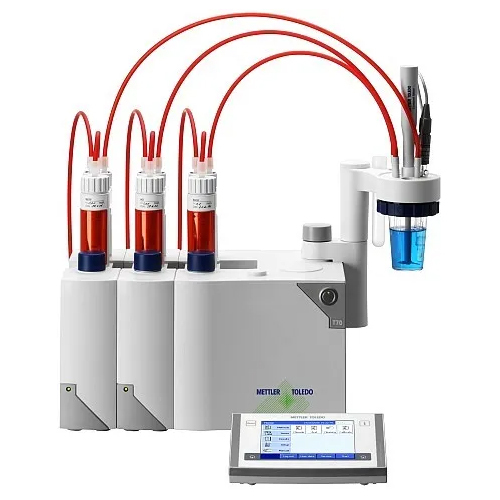 T70 Titrator
Product Code : 02
Product Description
T70 Titrator
Flexibility with a clear concept
Besides the many advantages of the Titration Excellence line such as One Click Titration™, Plug & Play and method database, the T70 offers a number of other important features.

Features:

Task List:
Besides the current analysis, simultaneous manual operations can be started and are displayed clearly in the Task List. For example, a reagent can be dis¬pensed to the waiting samples using an additional burette drive while a titration is still running.

Karl Fischer Kit
Everything needed for volumetric Karl Fischer titration is available in one kit including the titration stand with vessel, sensor, cables and tubes, the Solvent Manager for One ClickTM solvent exchange and all small accessories. Simply choose a burette size and add Karl Fischer titration to your general titrator. Preprogrammed METTLER TOLEDO methods start volumetric Karl Fischer titrations without any modification in One ClickTM.

Methods with loops:
Up to three analyses can be combined in a single method. For example, electrodecalibration, titer determination and sample analyses can be combined as loops in a single method and the results can be calculated simultaneously.

Conductivity measurements:
The T70 can easily be expanded with an additional pH or conductivity board, allowing simultaneous measurement of pH and conductivity.

Upgrade to T90:
The T70 software can be upgraded to the T90 version. In the future, your T70 can make full use of the unlimited power and possibilities of the T90. A decision in favor of the T70 still leaves all options open for the future.